Welcome to the Department of Natural Sciences.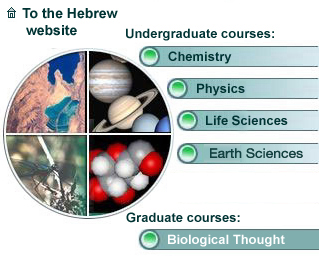 Varied undergraduate programs of study are available to students interested in the various areas of Natural and Life Sciences, as well as a Master's degree (M.A.) in Biological Thought. Undergraduate students may choose to combine studies in Life Sciences (Biology), Earth Sciences, Physics or Chemistry with fields offered by other departments, or design a flexible study program which includes courses from several areas in the sciences.
A program in natural sciences may also include, with very few limitations, courses in mathematics and in computer science.
Details on all courses offered in the natural and life sciences can be found here.
The faculty site provides details about the faculty members in the various groups operating within the department, and about the department office. We will be glad to offer assistance and answer any questions you may have.